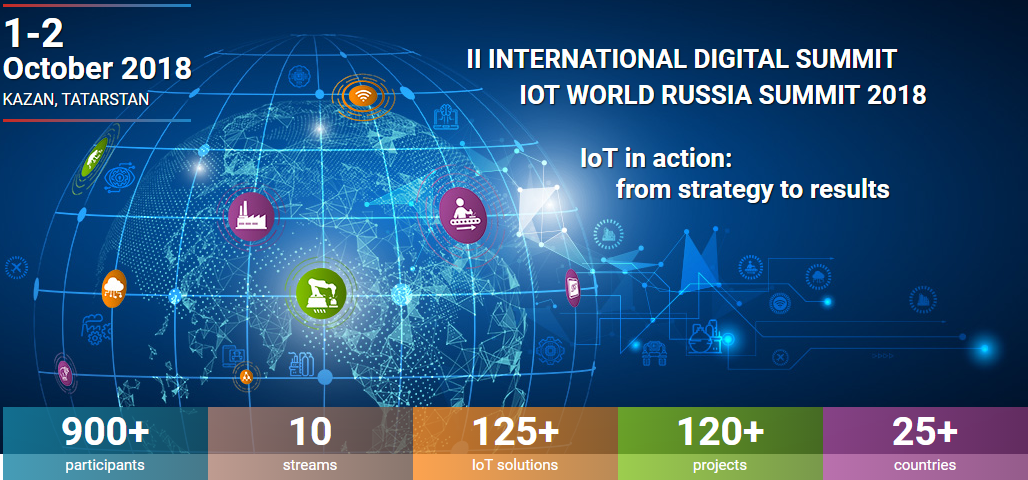 It was so cool last year so we should come to the next IoT World Russia Summit.
For the second time our company will become a partner of the most important and practical world-class IoT event in Russia.
II International Digital Summit IoT World Russia Summit 2018 will take place in Kazan, 1-2 october. There will be world IoT leaders, experts and leading specialists of Industry 4.0.
More than 25 countries will participate in the Summit, that will be twice more, than in 2017. There will be Russia, the UK, the USA, France, Germany, China, South Korea, Norway, Spain, India, Malaysia, etc.
IoT World Summit Russia includes:
the most relevant topics in the IoT field
practical cases of business-leaders
practice in transformation and automation of business-systems
opportunity to create new partnerships
This year participants will get 10 streams: Digital Enterprises, Smart city and digital government, IoT energy and utilities, Smart agriculture, Industry 4.0, Artificial Intelligence, IoT cybersecurity, Blockchain, Big Data and Data analytics, IoT telecommunication, in which leading experts in the IoT field with successful industrial cases will have a speech; strategic sessions, master classes, innovation project competition, etc.
Within the session Industry 4.0 Victor Polyakov, Tibbo Systems managing director, will speak about unified enterprise digital platforms and their main tasks, as well as about the market itself and the future.
On the Tibbo Systems stand in the demo-zone you will see the AggreGate IoT platform and find out how to create solutions for your business based on it.
You can get details about features and conditions for participating in the event on the following web-site: http://iotworldsummit.ru/en/registracziya
See you at IoT World Russia Summit 2018!
1-2 october 2018. Kazan, Tatarstan, Nikolas Yershov st., 1А, Korston Club Hotel.