Quick network expansion and number of users increase make telecom and cell tower monitoring much more complicated and require greater operating costs. This situation clearly calls for higher asset handling efficiency.
Tibbo's multi-year experience in telemetry market helps us solve the most sophisticated objectives raised by the tower operators. Our solutions are perfectly suitable for multi-tenant cell tower infrastructures that benefit from sharing the tower services between multiple service providers.
What are the advantages of AggreGate-based telecom and cell tower monitoring?
✅ Real-time power monitoring ensures remote setpoint control, switching rules adjustment, usage metrics reporting, power efficiency analytics, centralized power status visualization and real-time power failure alerting.
✅ Fuel monitoring is crucial for ensuring an uninterruptible tower equipment operation. AggreGate makes it possible to poll the fuel level sensors and predict the next refill date, detect fuel leakages by the dynamic baseline violation tracking, prevent the generator damage, Immediately warn the NOC operators upon any unusual fuel usage patterns and so on.
✅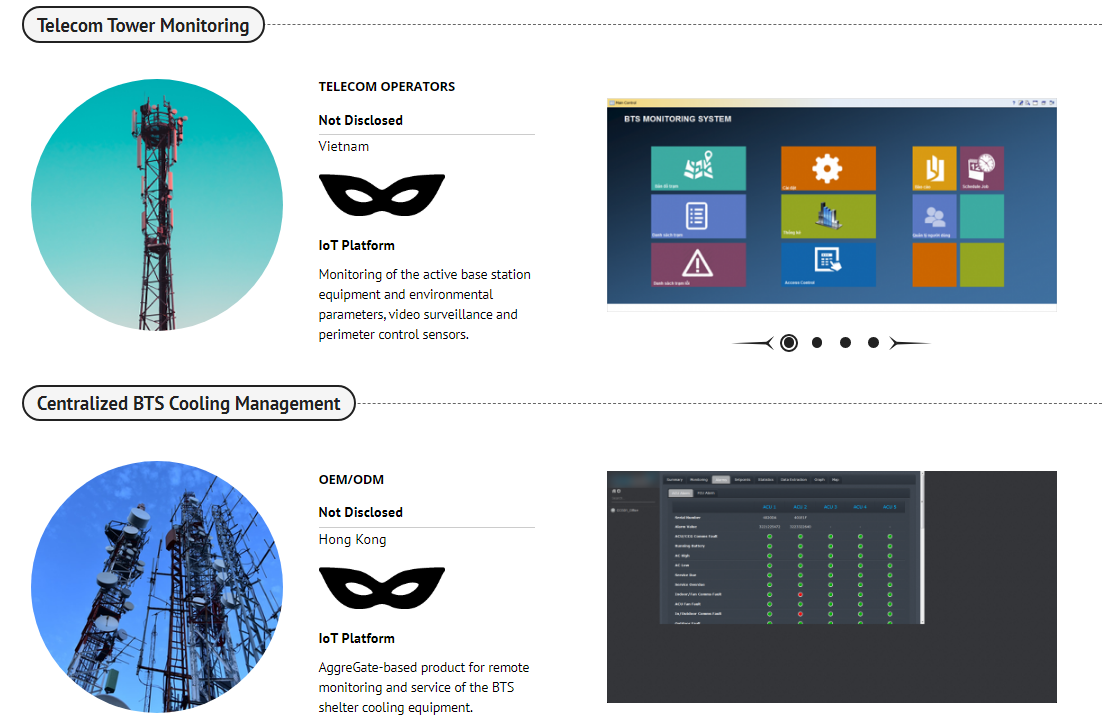 Security and access control protects expensive telecom equipment from theft and damage.
✅ Environment monitoring gathers environment parameters and predicts incidents by flood, gas/smoke alerts. Cooling, heating and ventilation equipment failures are also reported.
✅ Video surveillance is a very specific video monitoring system that's tailored to performing short recordings upon important events. Those recordings are stored locally and forwarded to the NOC on the best effort basis.
✅ GSM/UMTS/LTE equipment monitoring collects health/performance metrics, including voltages, fan status, card/module/interface statistics, and much more.
✅ Service Desk integration provides most possible convenient incident handling as well as high-quality customer service.
✅ NOC dashboards and Maps serves ideal process visualization.
On our website you can find AggreGate telecom and cell towers monitoring solutions, as well as description of telecom and OEM projects implemented in Hong Kong, Vietnam, Sweden and other countries.